Presenting with Valued Higher Ed Partners at CUPRAP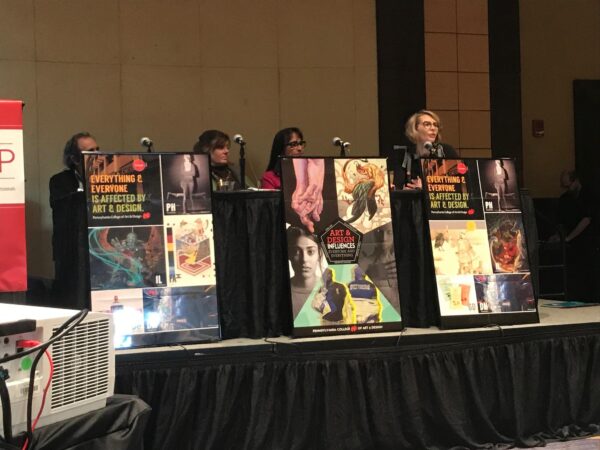 During the 2019 Spring Conference for College and University Public Relations and Associated Professionals (CUPRAP), Paskill Stapleton & Lord (PS&L) partnered with the Pennsylvania College of Art & Design (PCA&D) for a session of just over a dozen offered this year at the Lancaster County Convention Center.
Titled, "Small By Design: How Brand Research Curated Creative and Distinct Pathways for Prospective Students and Their Families," the session unpacked how PCA&D's branding research ignited comprehensive and compelling collateral, from art advocacy posters, to audience-specific brochures, including an art-publication-inspired student viewbook, to a website redesign for the Lancaster-based institution.
According to Bob Oxman, PS&L Vice President of Creative Services, research is not cold and requires on-campus immersion to measure back findings.
"What really differentiates our agency is what we are not influenced by. We are not influenced by unconfirmed trends, we are not influenced by inference, unsubstantiated feelings or perceptions that we can't measure. That's why research is so critical to our design process."
Oxman joined PCA&D colleagues Kathy Smyser, Director of Communications, and Natalie Lascek, Director of Admissions Marketing & Recruitment, in presenting the one hour and 15-minute session.
At the beginning, Smyser shared with CUPRAP attendees, some brief history of Lancaster and the city's role in PCA&D student life.
"Our students are infused in design thinking and creativity, and creativity is the number one thing employers say they need in a new hire," noted Smyser.
"PS&L are creative design thinkers and they really get our unique brand."
PCA&D engaged in competitor analysis and perception research in 2012 and 2018. Lascek pointed out that these comprehensive findings prompted a rethinking of what they had once perceived to be a negative: its small student body and small campus. But these same qualities were what prospective students desired in an art education to foster creativity and passion within a nurturing community.
"Prospective students' surveys gave us permission to own our small," she said.
"We learned how we were actually offering an experience students couldn't have anywhere else."
Showcasing that authentic student experience meant capturing visuals of people engaged and finding their joy as they embrace the PCA&D environment, like the pride and vulnerability of pinning up one's work; the satisfaction and promise of a private studio space; and the fulfillment and inspiration of a senior show, with a student's name on the wall.
"Prospects don't come to this school to sit in class, they come here to make stuff," added Oxman.
"We wanted student artwork to be paramount in all the creative. All their work was great, so we had to show it in a great format."