Virtual Events Part of College-Decision Journey
When it comes to in-person, online, or hybrid learning, students have their preferences. Nearly all college journeys however begin online. Providing deeply engaging virtual events only strengthens brand connections.
The United States Coast Guard Academy virtual open house showcased what's possible when live events experts partner with enrollment marketing pros: award-winning content that converted students through sustained engagement, dynamic video, meaningful conversations, various locations, and a range of speakers from across the globe.
Enriching the Prospective Student Experience
For the United States Coast Guard Academy (USCGA) enrollment isn't just about a college degree, it's also about enlisting to serve our nation. The Academy's admitted student virtual experience needed to deliver deep emotional connections.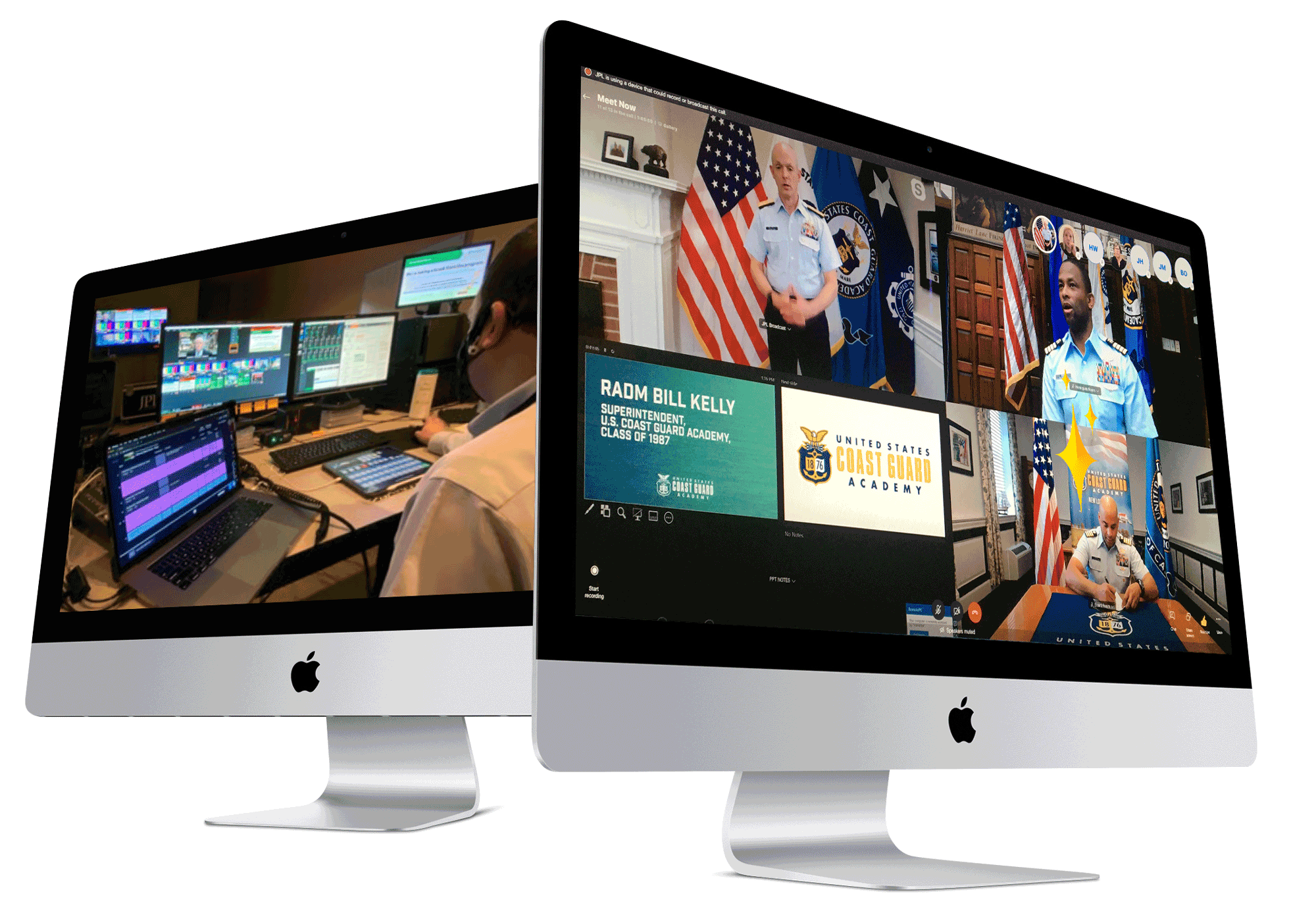 Understanding the need to connect prospective cadets and their families with the Academy, we created a virtual experience that included a host, pre-produced video clips, live panelist discussions with 14 USCGA representatives located at various exciting venues, even at sea, and interactive Q&A sessions with hundreds of questions answered almost instantaneously.
Future Cadets Feel Heard and Hugged
When Elkhan "Baggy" Bagirov attended the United States Coast Guard Academy (USCGA) virtual admitted student day from his home in Florida, he was not expecting much. Interested in studying Electrical Engineering, he had been accepted to other service academies and had even visited the West Point campus. While he had not made his final choice, the USCGA was last on his list. But after the three-hour virtual experience, Cadet Baggy did a 180.
"It was like a hug and a nudge in the right direction," says one of more than three hundred admitted prospects and their families who participated. "The event showed that the USCGA cared enough about their accepted students and that they put students first."
Not having to travel from Florida to Connecticut and meeting a lot of alumni at once during the USCGA virtual admitted student day was helpful and the interactive Q&A sessions were very informative. "Experiencing the physical aspect of a campus is irreplaceable, but a virtual event can be great addition to learning about academic life from home."
Keep All Virtual Doors Open to Connect and Convert
While life after COVID means prospective students can safely tour actual campuses, having the option to experience that campus and its culture virtually and meaningfully can create opportunities for sustained engagement with your institutional brand that Gen Z has come to expect.
Industry Experts Can Elevate Your Campus Event
As part of JPL, every year we produce 40-50 events at venues all across the United States. These events range from a few dozen to 2,000+ attendees. Elevated campus events can bolster your enrollment marketing and community engagement.
Through a complete package from planning to broadcast and after-event analytics, we can:
consult on content and build presentations/videos
coordinate the entire show
oversee tech tests, a live help desk, and much more
encourage user interaction through polling, gamification, Q&A, chat
utilize our custom platform, HuddleArea to house your event, or use your preferred platform
leverage our in-house designed virtual control center for a seamless experience