CUPRAP Conference Encourages Higher Ed Marketers to Promote Beyond Your Institution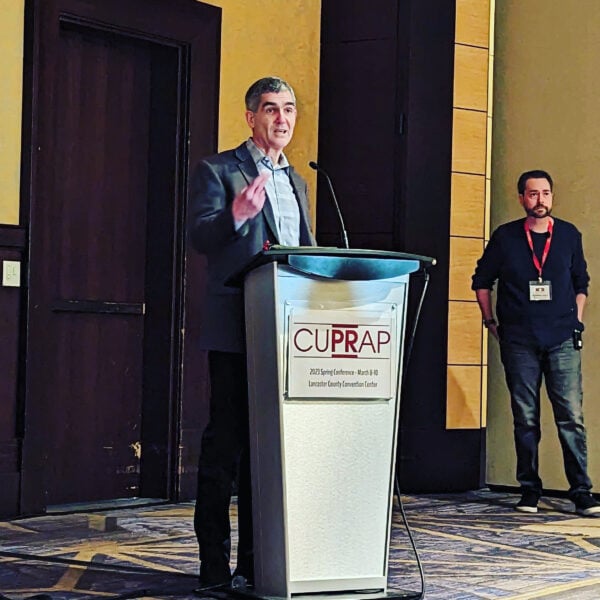 The top third state for colleges in the U.S., Pennsylvania is also home to CUPRAP, which since 1980 has been bringing higher education marketers together for professional development and "group therapy."
Now with nearly 350 members from 100 institutions nationwide, the 2023 conference held in Lancaster welcomed over 100 attendees from more than 50 institutions and several keynote speakers addressing top industry trends.
Recently rebranded enrollment marketing agency Paskill sponsored the keynote session, "The Physics Department has a Fan Base: What Higher Ed Social Media Can Learn from the Entertainment Industry," delivered by Jon-Stephen Stansel, director of social media at Chaotic Good Studios and co-host of the Thought Feeder Podcast.
Stansel, who shared tactics to engage followers authentically and convert them into passionate fans, signaled to attendees that colleges should be thinking bigger to engage today's students with competition coming more from "the Kardashians" than competitor institutions.
College Disrupted author Ryan Craig confirms that currently, 1.7 million college-age students aren't in college, but working, staying at home, or trying to be social media influencers. This means engaging today's prospective students and families throughout the college-decision journey and past graduation demands a compelling and innovative brand experience.
Brand relevance comes with a commitment to never stop evolving in the marketplace. Something Luke Kempski, president of JPL, where Paskill is the enrollment marketing division, addressed in his opening remarks.
"JPL's brand line is Relentless Evolution. While that speaks to our story starting 34 years ago as a video and event production company to how we work with clients from research and strategy to creative development to execution across all media," says Kempski. "It really speaks to how our clients need to approach the marketplace. And isn't this especially true for all of you in this room."
Paskill's exhibit presence at CUPRAP showcased the new brand and included VR tours, a glimpse into the future of campus tour possibilities as e-games continue to gain in popularity and the VR global market size is expected to hit $252 billion.
CUPRAP attendees also contributed to Paskill's question of what progress looks like in 2023 with responses from "breaking down silos" to "compelling content that engages" to "meeting enrollment goals."
Answers to what progress looks like for higher education marketers will also evolve as Paskill continues its tour of industry conferences across the country with the NCMPR conference for community colleges in Orlando next.