eduWeb Summit Motivates Higher Ed Marketers to Do More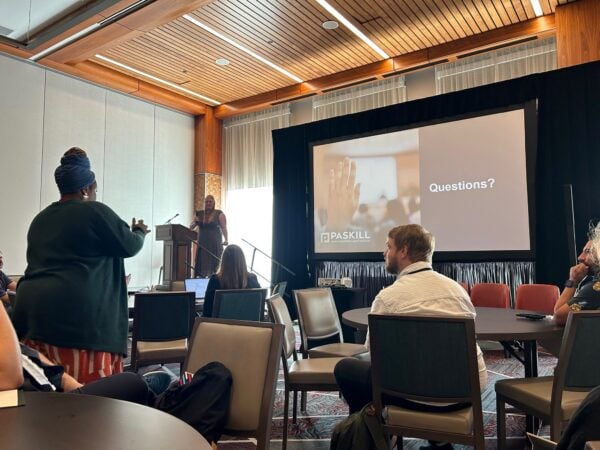 Hundreds of higher education marketers from across the nation and beyond explored various issues impacting how they support their institutions' enrollment, retention, and alumni engagement during the 2023 eduWeb Summit in Washington, D.C.
From changing demographics, budgets, and leadership roles to user experience, data sharing and AI, no matter the issue or solution it was clear marketers are finding the need to do more for their college or university to thrive during the most transformative time in the industry's history.
Keynote sessions explored the changing role of the Chief Marketing Officer, how to cultivate buy-in, and how AI will change the college online search process. Other sessions delved into a range of topics from brand storytelling, web accessibility, GA4, the enrollment cliff, and more. Presenters from Qatar University traveled over 6,000 miles to share how one Tweet changed their Google search results to 15 million overnight (from hosting the winning World Cup Team on campus).
Program content was set by a committee of track experts led by Richie Hunter, Vice President of Communications at the University of Michigan, and included Dr. Allison Turcia, Assistant Vice President of Enrollment and Marketing at Siena College, Raman Bhalla, Assistant Vice President of Web Services at Rochester Institute of Technology, Jessica DePaul, Director of Recruitment Marketing at NJIT, Kris Hardy, Director of Web and Digital Marketing at Messiah University, and Kelly Kautz, Lead UX Strategist at Paskill.
According to eduWeb organizer Shelley Wetzel, "Content, community, and connections are why people attend events. The content was the best we have ever had. At the registration desk, many people came by to say how fantastic the content and speakers were this year. People honestly struggled when picking which session to attend."
Fredrick Martin, Senior Director of Change Management at the University of Virginia, hosted two panel discussions with the event's track experts about the changing role of higher ed marketing and what ideas resonated most with eduWeb Summit attendees.
Several attendees, including the first to respond, mentioned the relevance and impact of Kelly Kautz's presentation on first-generation college students, especially how UX is a signal of who belongs on campus.
"What an awesome opportunity we have to work at these institutions of higher education," said Kris Hardy of Messiah. "At the end of the day we're all trying to build on the greater good."