Marketing Meaningful Experiences Major Theme at Community College Conference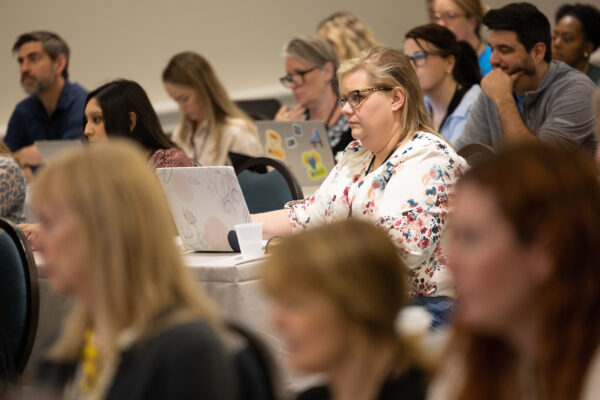 Community college marketers earned a few days in the sun earlier this month at a national conference in Orlando to connect with colleagues, learn new strategies, and return to campuses nationwide inspired to keep improving the brand and enrollment at their institutions.
Representing more than 1,600 members from community and technical colleges, the National Council for Marketing & Public Relations (NCMPR) welcomed representatives from more than 150 institutions during its multi-district conference, March 30-April 1.
Enrollment marketing agency Paskill, which has partnered with over 60 community colleges across services, exhibited at NCMPR, the first time since 2019. In addition, to showcasing the new Paskill brand and range of marketing solutions, Paskill asked attendees what progress looks like in 2023 for the community college marketing.
From "being more flexible" to "not taking things so seriously" to "provide better customer service to students" to "time to reflect after a project," progress meant different things to different people. Still, all attendees understood the various challenges confronting higher ed marketing teams and the great demand to deliver a high volume of content across platforms.
Keynote speakers from nearby Universal Studios shared what they have in common with community college marketers in terms of how their three staffers work daily to showcase "authentic, real emotion" from park visitors.
"Our theme parks are about putting people into immersive experiences," said Donna Mirus, Bates, senior vice president of strategic partnerships & communications at Universal Parks & Resorts.  "They have to come to us, spend money to get here, we have to give them all of these compelling reasons why."
However, giving prospective community college students reasons to attend isn't about a one-day experience but a two-year commitment ideally with transformative outcomes. Multiple conference sessions echoed this theme of the need for meaningful experiences both on campus from day one through graduation as well as online, in terms of social media engagement.
And while community college costs are reasonable compared to traditional four-year tuition and acceptance is universal, converting admitted students to enrolled is a major industry concern. This concern rises from staffing issues, life barriers impacting students, and communications challenges.
But community college marketers have the stamina to continue to address challenges and utilize the network of colleges and agency partners to find marketing solutions and support.
While the NCMPR conference attracted over 100 first-time attendees, several marketing professionals have been attending for decades.
"The power of this organization is represented in the people who come back year after year," noted outgoing NCMPR President Jeff Ebbing, Director of Marketing and Communications at Southeastern Community College.
Paskill has long supported the association, and just last year presented a session with partner Three Rivers College on recruiting strategies. Recruiting strategies that have resulted in hitting enrollment goals this year.
The higher ed marketing conference tour continues this summer as Paskill exhibits and presents at the eduWeb Summit in Washington, D.C.