Paskill and Messiah University Discussed Recruiting Trends at CCCU Conference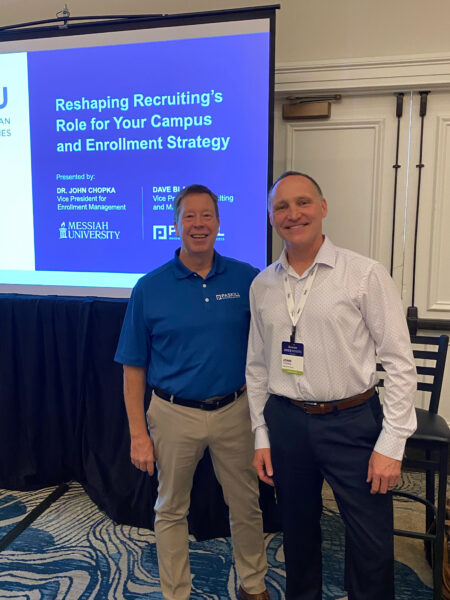 Admissions recruiters have always had difficult jobs. How they perform or don't, has financial implications for the entire campus.
As COVID disrupted traditional recruiting practices, admissions officers are still recovering from professional and industry trauma. They struggle to build relationships with prospective students and their families in a high-tech and high-stress world.
Dave Black, Vice President of Consulting and Research at Paskill joined John Chopka, Vice President for Enrollment Management at Messiah University as featured speakers during the 2023 the Council for Christian Colleges and Universities (CCCU) Multi-Academic Conference in Miramar Beach, FL. The higher education experts discussed how professional development in admissions operations must be fully integrated into enrollment marketing to restore and sustain enrollment health.
The CCCU is a higher education association of more than 185 Christian institutions worldwide. Since 1976, the CCCU has served as the leading national voice of Christian higher education for the more than 500,000 students who attend these institutions.
Titled, "Reshaping the Recruiter's Role on Your Campus and Enrollment Strategy," the presentation addressed an intensely competitive recruitment environment where the value of a Christian education is being questioned and what recruiters need right now to be successful.
Before joining Messiah, John served as Vice President for Enrollment Management and Marketing at Malone University. With more than 30 years in Admissions and Enrollment Management at private and public institutions, he brings experience in higher education marketing, strategic planning, undergraduate and graduate student recruitment/retention, and financial aid.
In his leadership role at Paskill, Dave engages with staff development, research, and consulting clients across the country. He has worked on over 300 campuses in his 33+ years of consulting and brings that deep and diverse experience to his research, training, and consulting clients.
Paskill is the only higher education enrollment marketing agency with staff development and training as a core service, having delivered thousands of workshops to a range of schools, including more than 25 CCCU member institutions.