Paskill Joins Shippensburg to Discuss Website Upgrade Strategies at CUPRAP Conference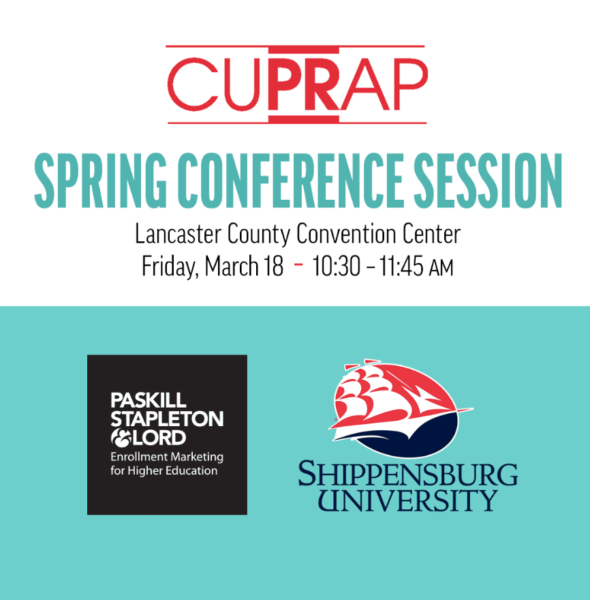 Enrollment marketers know the main website is a powerful vehicle for recruiting and communicating to an institution's various audiences, especially prospective students and families. However, while demands and expectations for online experiences are evolving at warp-speed, re-imagining the main website to keep up with the times is not always in the cards (or budget).
On Friday, March 18, Ryan Pudloski, Vice President of Web/Interactive at Paskill will join Ken Bach, Communications and Marketing Director at Shippensburg University of Pennsylvania to discuss strategies for upgrading existing website ecosystems during the 2022 CUPRAP Spring Conference in Lancaster, PA.
Founded in 1980 as the College and University Public Relations Association of Pennsylvania, CUPRAP now represents 350 higher education professionals from 100 institutions beyond the keystone state.
Titled, "Improve User and Brand Experience When a New Site is Not in the Budget," the 10:30 a.m. breakout session will empower website content managers and marketers to think beyond a large overhaul of the main website and begin making meaningful upgrades. Through Shippensburg University's development of various diverse website solutions, attendees will gain insights on how to achieve their website goals on their timelines.
Ryan oversees the development, functionality, and quality assurance of each web project at Paskill and parent company JPL. He is the lead for recent website solutions delivered for The College of St. Scholastica, Shippensburg University, Upper Iowa University, and York College. A graduate of James Madison University, Ryan is a frequent speaker, delivering multiple webinars, including with OmniUpdate on accessibility, and led a session on research-driven designs at eduWeb Digital Summit in Philadelphia.
Ken plans, develops, and implements comprehensive marketing and communications plans that support the overall mission and objectives of the University. The former executive director of communications and marketing at CUNY College of Staten Island where he cochaired a presidential task force that drove a comprehensive website overhaul, Ken has earned two undergraduate degrees from St. John's University and is currently pursuing a Master of Public Administration at Shippensburg University. He holds a Certificate in Leadership and Ethics from Kennesaw State University and is a national Annual Admissions Advertising Award recipient for Interactive Television Advertising.
At Shippensburg, Ken's team maintains the University website, and oversees print, digital, video, and social media creation and strategy. He works closely with enrollment management and academic affairs units to plan and execute strategies focused on enrollment goals to recruit and retain students, as well as improve the communication technology ecosystem and experience in a digital native world.
Within the past five years, Paskill, as part of JPL, has launched more than 50 institutional websites, microsites, and campaign landing pages. Discover Paskill's website solutions for colleges and universities.