Faith-Based Higher Ed Association Selects Paskill for Academic Sales Training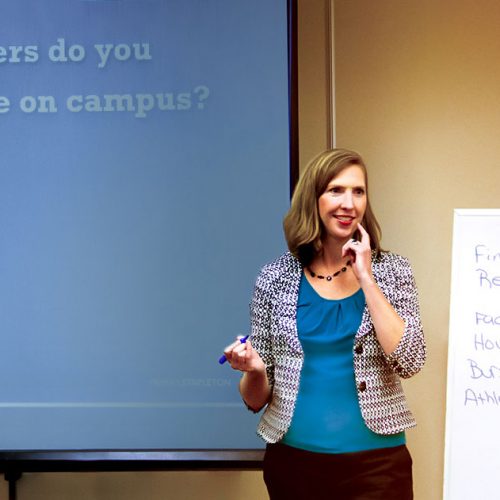 Approximately 162 higher education representatives from more than a dozen institutions participated in a recent academic sales training led by PS&L Senior Consultant Dana Evans, during a regularly scheduled Southern California Christian Colleges and Universities (SCCCU) meeting.
Recruiting for undergraduate, graduate, adult degree completion, and online programs, those in attendance ranged in admissions experience, including individuals with less than a year at their institution to those with more than 10 years on the job.
Some of the schools represented include Biola University, Westmont College, California Baptist University, and San Diego Christian College.
According to Evans, SCCCU leadership recognized the need for their institutions to build relationships with prospective students and influencers and decided to gather as an organization for professional development for their teams.
"Having worked individually with a number of the member schools, PS&L was contacted to provide a one-day sales training," says Evans. Topics covered included academic marketing, recruiting vs. promoting, overcoming objections, customer service, and closing.
"My task was to introduce ideas and give them a foundation to go back to their individual offices for more discussions and to think about things a little differently," adds Evans. "None are institutions that are struggling with enrollment, but everyone needs to improve. Making some of those small changes can make big differences."
The group participated in a breakout session to help hone their communication skills with prospective students and proactively recruit to move students through the enrollment funnel. Key to this process is differentiating and knowing the competition; faith can be an important differentiator, depending on audience.
"Although all the colleges and universities attending were faith-based schools, there are still ways to differentiate between each other."
And differentiating isn't just reporting the hard numbers of your school Evans clarifies. She encouraged attendees to really think about their elevator speeches to better motivate someone to learn more about their institution. "Too often counselors fall into the trap of describing their institution statistically."
Through its popular academic sales workshop—more than 1,000 delivered in two decades—PS&L leads attendees to identify their institution's strongest features, determine how those features benefit students, and pinpoint compelling outcomes of those features.
PS&L customizes staff development and training year-round for schools of all sizes and situations. Contact [email protected] to discuss what workshop would work best for your institution.