Top 10 Enrollment Marketing Agency Rebrands as PASKILL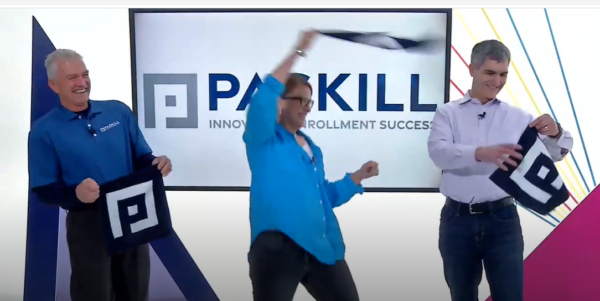 For numerous higher education clients, the agency's new name signifies how they have long referred to the enrollment marketing firm: PASKILL.
Paskill Stapleton & Lord, a division of JPL, has announced its new name "PASKILL" and launched a compelling brand and visual identity to reflect its innovative enrollment marketing capabilities.
The full-service marketing firm dedicated to higher education has supported the enrollment marketing needs of hundreds of colleges and universities nationwide since it was launched in the Paskill family home in 1986.
Since 2017, when PS&L joined JPL, PASKILL has expanded its higher education client base across the country and across services. In fact, Paskill's revenue has grown 60% as part of JPL. In that time, PASKILL has developed over 50 higher education websites, has over five times more traditional & digital advertising clients, and continues to provide industry-leading market research, creative and admissions consulting, and staff training services.
Led by founder Jim Paskill and supported by a deep bench of 100+ marketing professionals spanning digital, website, consulting, creative, video, and events services, PASKILL's new brand platform and its full integration into JPL make the agency a top consideration for enrollment marketers in leading higher education institutions.
"The higher education landscape in 2023 is the most diverse and complex in its history. Colleges and universities need to innovate to engage students from inquiry to commencement. We're set up to provide data-led strategies and creative execution that lead to a healthier enrollment funnel for our client partners," says Jim Paskill, president.
To coincide with the rebrand, PASKILL has launched a new website, paskill.agency, which features the agency's new brand positioning and visual identity. The website provides an overview of the agency's core competencies in enrollment marketing and includes a portfolio of work PASKILL has delivered for colleges and universities across the industry, from private, public, community college, health sciences, faith-based, to military academies, including Goldey-Beacom College, The United States Coast Guard Academy, Three Rivers College, and Southern California University of Health Sciences.
"Our new brand, particularly our brand promise, emphasizes a commitment to our clients, bringing a whole-team approach to every project that builds trust and excitement in our shared success," Paskill said. "We build trust with our partners because they know we are fully invested in shaping the future of their institution."
About PASKILL
PASKILL is a leading higher education marketing agency that has been shaping the future of institutions since 1986.  Through collaborative partnerships and data-driven strategies, PASKILL accelerates enrollment growth at colleges and universities nationwide. A Top 10 Higher Education Marketing Agency and a Top 10 Student Engagement Solutions Provider, PASKILL has earned hundreds of industry awards for exceptional marketing creative. Creative that compels student action and brings enrollment funnels to life.