Ready or Not, Higher Ed. The Metaverse is Here.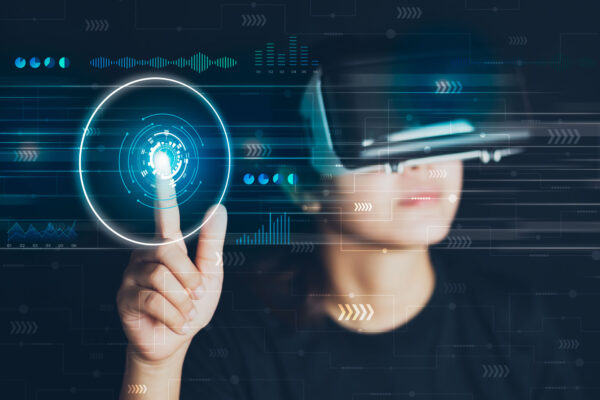 Even if the Metaverse is last on your marketing to-do list right now, likely you've envisioned how your school might take part and when it's time to get started.
PS&L clients are asking not only what the Metaverse is, but should they carve out space there? The Metaverse has arrived as an emerging viable marketing channel and higher ed marketing teams are right to think about ways to begin at least to consider the possibilities, and perhaps the inevitability, of this new realm.
Several institutions – Georgia State University, Harrisburg University, University of Miami, and the University of Nebraska to name a few – have already entered into a presence on (or are helping to build) the Metaverse – a developing, next-level immersive virtual experience where top consumer brands, like Adidas, Coca-Cola, and Gucci, are already experimenting.
Whether the Metaverse excites you as opportunities for new programs or applications or daunts you with its vagueness and steps further away from the on-campus traditions denied since 2020, the much-hyped Web3 is building momentum to not be dismissed in its evolution into everyday life and expectations for immersive experiences.
As far as the "Metaverse" is concerned, there is no true established or agreed-upon definition yet. Generally speaking, the "Metaverse" comprises multiple completing platforms – think of these as virtual worlds that allow users to create and purchase digital assets on the platform – like virtual real estate. Users can also interact with these virtual worlds with an ever-increasing number of devices ranging from phones and laptops to immersive VR headsets. Inside the Metaverse, users can interact with other users, attend virtual events and games, shop, and even learn.
Who are the major players in the Metaverse?
There are a variety of social platforms and technology companies working on multiple software and hardware applications. You can view the top 10 list here.
What's arguably the most interesting is that despite multiple entities developing similar immersive technologies, there are no existing standardized platform guidelines that allow something developed in one Metaverse platform to be deployed in another. Even lacking this standardization, the Metaverse is already emerging as a powerful means to deliver content within virtual or augmented reality scenarios.
Two leading 'Metaverse' platforms are The Sandbox and Decentraland. These are online virtual reality worlds that allow users to create or purchase digital assets and virtual real estate with cryptocurrencies.
How does the Metaverse affect higher education?
As with all things – there are pros and cons as it relates to the Metaverse's impact on higher education.
The pros? It offers the opportunity for increased awareness on a new platform. The Metaverse is also a great space for immersive online learning. Additionally, we've all seen increases in virtual campus tours due to COVID – the Metaverse can take virtual tours to the next level, allowing users to interact and engage in a richer way.
The cons? Some suggest the Metaverse could accelerate the unbundling of higher education, given its promise to make online learning more immersive, prolific, and available. The race is on to offer individual courses, seminars, and micro-credentials in the Metaverse. Additionally, it does take an investment of time and money to establish your presence in this new frontier. Depending on your bandwidth, it might not be something you can go all-in on at this time. But there are some colleges and universities that are stepping into the Metaverse.
The University of Miami has embraced the Metaverse and has developed an immersive online curriculum using VR technology. Other universities have also created remote VR campus tours. Google even created a VR Tour Builder application.
The President of the University of Nevada turned himself into a virtual avatar that students could interact with.
And VictoryXR (software company) is partnering with colleges and universities to develop virtual learning curricula. Highlights about their "Metaversity" offering can be found here, and below are just some of the colleges and universities participating by creating immersive online learning focused on robotics, space exploration, biomedical science, engineering, digital art, and computer science.
Georgia State University
Morehouse College
New Mexico State University
South Dakota State University
Southwestern Oregon Community College
University of Maryland Global Campus
University of Kansas School of Nursing
West Virginia University
Which way to the Metaverse?
As complex and emerging as the Metaverse is, if you are curious to get started, we've broken down how to enter into three steps.
Focus on the problem you're trying to solve. By zeroing in on the what and why first, the path forward will be easier to map out.
Do you need to make campus tours more engaging and accessible?
Are you looking to increase awareness and your presence in the Metaverse?
Would you like to create an opportunity for students and faculty to develop new ideas and enhance your online learning offering?
All of the above can be achieved in different ways depending upon the platform, its capabilities, and limitations.
Pick the right tech solution and partner for the job.
The Sandbox Metaverse is anticipated to become the world leader in online gaming as it is much more user-friendly in terms of depth, overall usability, and accessibility in comparison to Decentraland.
The technological landscape is always changing, and the Metaverse is the newest trend, but there are plenty of older technologies that can achieve similar results to create immersive experiences.
Choose a tech solutions partner to help with the development and integration of digital assets into Metaverse platforms.
3D modeling, motion graphic artists, designers, and developers are essential team members when creating digital assets that will exist in the Metaverse.
Start creating, even if the goal is to acclimate to new terrain and build new audiences.
Once a platform has been chosen, creating an account and developing content that will exist on the platform is possible with the platform's online tools. Playing in the Metaverse now will only strengthen your presence as the platform becomes more widespread. There is also fun in building a new world when you might need a break from this one.
Note: Multiple sources were used in the writing of this piece and are available upon request.